Departure Cities from China:
Including Guangzhou (CAN), Shenzhen (SXZ), Hong Kong (HKG), Shanghai (PVG), Beijing (PEK), Hangzhou, Nanjing, Ningbo, Yiwu, Qingdao, Foshan, Zhongshan, Dongguan, Huizhou, Chengdu, Changsha, Wuhan, Dalian etc.
Destination Cities in Germany:
Including Berlin, Munich, Bremen, Hanover, Dusseldorf, Frankfurt, Leipzig, Duisburg, Stuttgart, Hamburg, Erfurt, Munster, Nuremberg, Dresden, Saarbrucken, Cologne, Dortmund, Bielefeld, Chemnitz, Essen, Bonn, Reunion etc....
Destination Cities in Poland:
Including Warsaw, Wroclaw, Krakow, Bo Cinan, Gdansk etc.
a. 100% Satisfaction Guaranteed: if not, service fee will be 100% refunded;
b. Over 13 years of global shipping experience, with reputation and reference from over 300 worldwide customers;
c. Outstanding Safety concept: Risk-Prevention, Risk-Management, Risk-Transfer;
d. Well trained and professional sales and Customer service teams;
e. Can be your China partner (your China office)
--Closely keep posted with you
--keep working with you together in the same time as to communicate in time;
--Combine the shipment from defferent supplier and make the combine packing list;
&commercial invoice to one set original document
--Update cargo tracking information for you
Our aim:Transfer your value by our service
Our concept:Efficient,Honest,Innovative
Please kindly provide us with the detais of your goods when you inquiry the freight service
1.Name of commodity
2.Total Gross weight, volume, cartons of commodity
3.Port of loading
4.Departure time
5.Trade terms (FOB,EXW etg.)
6.Port of discharge and destination
7.Value of goods and insurance
8. Daily shipment tracking reports
About US:
We can be sure Ever Triumph is the first choice as your shipment agent in China.
With concept of SAFETY 1st PRIORITY, obtains reputation and trust from over 300 worldwide customers in past 13 years. We aim to be your most reliable China partner. Our teams are well trained and confident to handle all your shipments to your satisfaction.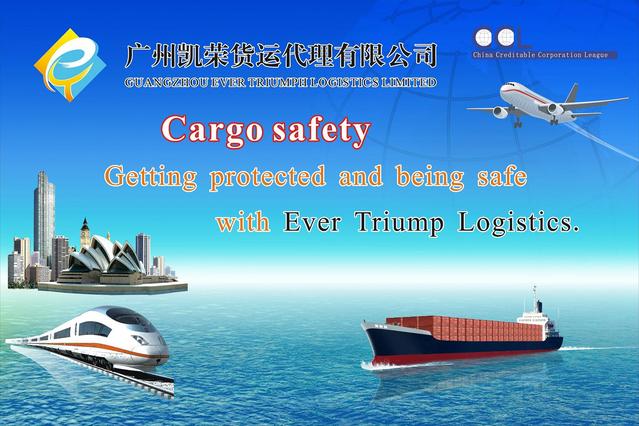 If you want to learn more about us and seek for your favorite service, please feel free to contact us, You will find what you need here with satisfaction.
Looking forward to your kindly enquiry.

---------------------------------------------
Safety for Delivery & Transport is our 1st Priority.
Ever Triumph Logistics Limited
Any inquiries from you will receive our prompt reply.
Thanks & Best Regards
Switsen / Sales
---------------------------------------
+86-20 - 6299 0176 (tel)
+86- 137 2672 9412 (cell)
QQ: 154 048 1283
skype: cansalesf
Welcome your kindly inquiry! Thanks!